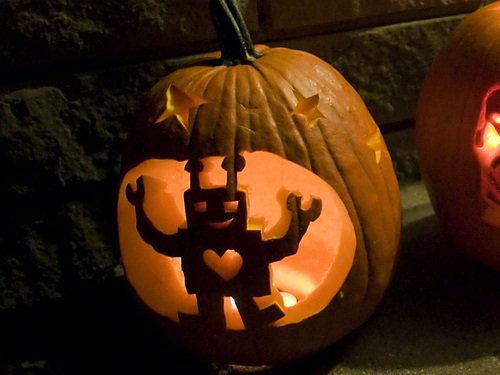 Photo courtesy of FIRST Tech Challenge Twitter
Don't be SPOOKED by the upcoming competition season - Come to Meet the Field Day!
Meet the Field Day in Arizona is this Saturday!! Even if your robot is still a box of parts, there will be teams and volunteers that can help you out. Meet the Field Day is more than just a scrimmage - it's a chance to network with other teams, get help, learn new skills, ask questions about the game, try your robot out on the real competition field, and make a lot of progress on your robot.
Teams can Meet the Field at:
Chandler - Valley Christian High School

Tucson - San Miguel High School

West Valley - Canyon View High School

White Mountains - Mogollon High School

Flagstaff - Coconino High School
Tip of the Week: Communication
With over 100 teams competing in Arizona and New Mexico, our planning committee has a lot to keep track of. As much as we love you all, we don't have all your team numbers memorized! Please remember to include your team number when communicating with us, whether you have a question about the game, need information about paying for your events, or other issues you may be having. We can help you much faster if we can look at your team's records right away.
Please contact us early and often if you're having an issue with your payment. Don't wait until the day before payment is due to reach out! We are flexible, and will take evidence that you have generated a purchase order by the deadline, but if you don't communicate with us, we can't work something out. With so many teams on the wait lists already, teams who don't pay or communicate by the payment deadline are in danger of losing their spots at events!
If you have an urgent matter, please contact Susan, Patti or Christine directly.
Rookie Grant applications close TOMORROW!
Last chance to start a new team at your school or community with a rookie grant! Visit the FIRST Tech Challenge Grants page to the right to apply.

Qualifying Tournaments Start Next Week!
We can't wait to see how your crews have tackled the Rover Ruckus challenge at our first qualifying tournament in the White Mountains next Saturday! We know that getting ready for competition can seem like a daunting task, but remember - you never feel ready!! You'll learn more in one day at the tournament than you have in the entire 2 1/2 months since kickoff.
What to do prior to your event

Preparing for inspection

Preparing for judging

What to do when you get to the event

What to print
The tournament is the payoff and celebration for all your hard work! We can't wait to see you there!
REMINDER: PAYMENT FOR ALL EVENTS IS DUE NOVEMBER 16, and TEAMS MUST BE REGISTERED WITH FIRST BY NOVEMBER 1 TO BE ELIGIBLE TO COMPETE THIS SEASON!!